The Oscars Overview
Duana and I both have thoughts on this and on Ellen DeGeneres as host. Let's start with Duana's analysis first:
Duana:
The thing about Ellen Degeneres as host was that there was already a much higher standard than for someone like He Who Irritated Us Last Year. For the most part, she was completely able to host the show. But you know what? I didn't think, "Oh, she's having so much fun. This is cake for her". No matter how skilled she is – and she is - it's not like she had it in a lock. There were more than a few moments when I was not sure she was going to be able to pull it out. Yes, there was that awesome first dig that came directly before Anne Hathaway but there were also a lot of stammers that weren't pulled off with a grin, that awkward start to the pizza gag, and the time when she couldn't really land the bit with the money. Or like, she did…but then it kept going and Pharrell gave her a bit of side-eye, like… "you got this, right? You're okay".

It made for interesting viewing, since I wasn't always sure how she was feeling about the performance. There wasn't flop sweat, but I wasn't sure she always had the material, even if she always had the room on her side. There were for sure wins, but they didn't make it a roaring over-the-top adrenaline race that made it a home run. It was touch and go.

Which I kind of liked. Like the best movies, I don't want to feel safe all the time. I didn't once complain about being bored…
Lainey:
First of all, that was a really poorly directed show, non? If Kevin Spacey mentions Angelina Jolie, you CUT TO ANGELINA JOLIE. I mean, sure, we eventually got to the Pitt Porn kiss afterwards but if I'm running that control room, a shot of those two makes your show every.single.time. Also, please don't show me June Squibb after announcing Sally Hawkins's nomination. And the steady cam shots as they were all opening the envelopes were so distorting and weird like they were trying to be the VMAs, cool and hip, when cool and hip is clearly not the Academy. Classy? Sure. That set was incredible. The cascading roses were incredible. The wall of typewriters was incredible. You don't need weird X-Games camera angles when you have quite possibly the most beautifully designed stage in the history of the Academy Awards!
As for Ellen, I agree with Duana that some of the jokes didn't work. And still, I don't think that was enough to take away from what she brought to it. Which is that she's friends with all of these people. Which means she's able to draw those people – the celebrities, the movie stars, the faces we all want to see more of – in to the action. With the pizza (take the f-cking pizza, Leo, just take the f-cking pizza), with random audience popups, with Pharrell's hat collecting money, and of course, with that selfie…
The most amazing selfie of all-time…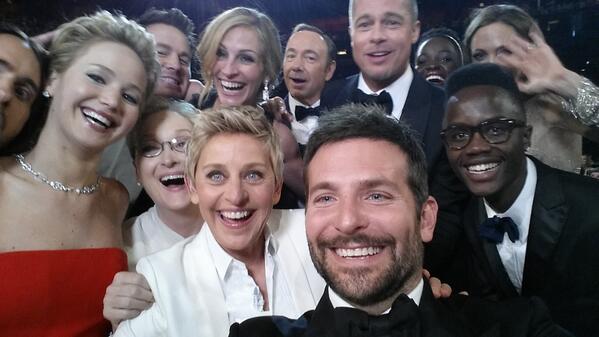 Did you see how little time it took for Julia Roberts to insert herself in that moment? And how excited the Brange seemed to be to throw themselves in there? And how Lupita's adorable brother didn't belong but still belonged?
That's all Ellen. Ellen gives us what we want: THEM.
I wasn't initially sold on Ellen as host. But I didn't realise that she'd leverage her connection to THEM that much. Isn't that why we still watch the Oscars?
Photos:
Christopher Polk/ Kevin Winter/ Getty Images