!!!!!!!!!!!!!!!!!!!!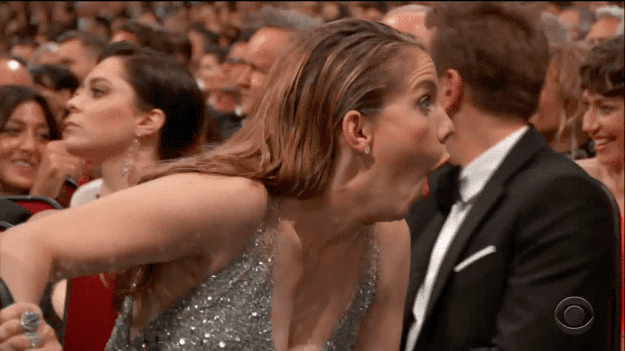 Come on. If you're here for the gossip – WHAT ELSE IS THERE – Ben Affleck's appearance at the Emmys was the best gossip of the night. He did not walk the carpet. He was not a nominee. Ben Affleck had no reason to be at the Emmys…except that his girlfriend, Lindsay Shookus, is a producer on Saturday Night Live and so he went – as her PLUS ONE. Sitting way back in the 5th row. Or 6th? Like it must be love, right? If Ben Affleck, who's won two Oscars, is sitting in the seats normally reserved for those off-camera, for a three hour show, it means he's such a great boyfriend, so supportive, like just so f-cking there for her, you know?
Ben Affleck is here at the #Emmys accompanying his girlfriend, who is part of the SNL team pic.twitter.com/EFsnWI9UEP

— Scott Feinberg (@ScottFeinberg) September 18, 2017
Sure. That's one way of looking at it. Another way of looking at it might be – ummmm… did we ever see this when you were married to Jennifer Garner and she was birthing and raising all three of your kids?!
Anyway, Ben and Lindsay are evidently, as Sarah put it last night, "award show serious" now. After the Emmys they were at the HBO after-party hanging with the Curb Your Enthusiasm crew. He and Lindsay also had dinner with Larry David the night before. Lindsay probably knows Larry because she handles talent on SNL and Larry appeared several times last year as Bernie Sanders. I suppose your takeaway from that might be that Lindsay has connections of her own, a career of her own, nominations of her own, so much so that Ben's her guest instead of the other way around. Is that really the narrative we're going with? Is that what we're going to start hearing? Here, I can even write it for you – a possible upcoming report on PEOPLE.com:
"Ben is really attracted to Lindsay's ambition. He loves the fact that she's so passionate about her career and that her colleagues her admire and respect her work so much. Ben's so proud that Lindsay is one of Lorne Michaels's most valuable team members. They motivate each other."
If it actually goes down that way, the subtext of course is that professional ambition was not an attribute he was seeing in Jennifer Garner, was not where he could connect with her. And my GOD I hope he's not that stupid. I hope Ben Affleck isn't that sloppy. You don't want to be fighting Amazing Amy on drive, on who has drive and who doesn't. Because now that she's free of him, she's breaking out into organic baby food and building her brand on the affection and loyalty of the American mom. Jennifer Garner's about to show Ben Affleck all about f-cking drive. I might buy the goddamn baby food if this is what this is all about.