Dear Gossips,
Beyoncé and Jay-Z's On The Run II tour kicks off in Wales on Wednesday. They've been rehearsing for the last month just outside of Paris. On Saturday they were seen leaving Paris via private jet – B and the Blue Ivy Carter wore matching grey sweatsuits. And Julius is there loading gear and I think maybe a baby carrier? Which reminds me, the angel twins, Rumi and Sir, will celebrate their first birthday on June 13th. OTR2 is in Manchester that night. I wonder if they'll do something extra special for that performance.
In other Beyoncé news, here's the headpiece she was supposedly supposed to wear to the Met Gala last month:
Kinda lives in the same space and shape as the headpiece she wore to open Beychella:
And, of course, she did the headpiece thing a full year before the Met Gala when she performed at the Grammys in 2017:
Later on that night, when she came back on stage to accept an award, she replaced the headpiece with a veil, which also would have been totally on point for Heavenly Bodies: Fashion and the Catholic Imagination:
I've been thinking about Beyoncé's headpiece archive – another room I hope we'll get to walk through when the Beyoncé Giselle Knowles-Carter Library opens one day – and my favourite Beyoncé headpiece of all of her headpieces. It's the one she wore at the beginning of the "Run the World (Girls)" video, remember: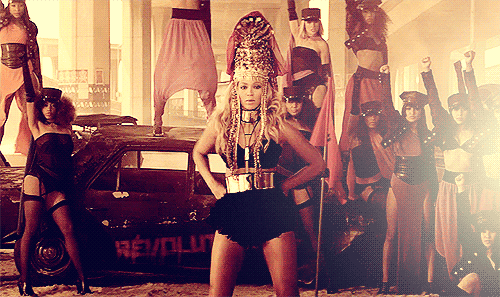 I LOVE IT SO MUCH.
Probably because I see Asian influence there. It's similar to the headdresses worn by Chinese princesses, like in the Qin dynasty, and definitely similar to the Mongolian princess headdress. My cousin Cat and I were always trying to recreate these kinds of headdresses when we were kids, playing kung fu dress-up, inspired by Chinese soap operas.
I'm curious about this alleged Beyoncé Met Gala headpiece though and its availability, like why it's not in her possession. Why didn't she keep it? Sure, she never went to the event, but she's a prolific hoarder in the sense that she's constantly storing her sh-t, constantly adding to her archive, saving things to be released later.
Add another question to the long list of Beyoncé questions. I spend a lot of time worrying that they'll never be answered.
Yours in gossip,