Dear Gossips,
I keep forgetting that black-ish is on Tuesdays now. For the second week in a row I've watched the episode two days late which is why I only got caught up on this week's episode last night.
black-ish kicked off season 4 with an episode about Juneteenth that was also an homage to Hamilton. Vulture called it an "instant classic". I loved everything about the episode, especially its ambition – not only in its subject matter, coming right out of the gate to address racial inequality and the pervasive prioritisation of whiteness in every corner of North American culture, but also in its commitment to production. That was a SPECTACLE. And this will likely be one of the episodes they will shortlist for Emmy consideration next year.
Oh but wait. After the spectacle, black-ish returned a week later with another contender, an episode about Bow and postpartum depression showcasing Tracee Ellis Ross at her most vulnerable and also at her most powerful. She was both. And she did both. Both in other ways too. black-ish is a comedy. And Tracee is a gifted comedic actress. In this episode though, she gave us both comedy and drama, both sides of thespian face. The scene where she reads Ruby for feeding the baby formula instead of breast milk is as potent as any scene you'll see in a drama. And her performance would stand up next to any performance nominated in a drama category. Tracee Ellis Ross is a f-cking superstar.
She's a designer now too. Tracee was in New York earlier this week promoting her new capsule collection for JC Penney. It's a 45 piece holiday season collection, at a great price point (nothing over $75), in a diverse range of sizes, on sale in November, and the centrepiece, at least in my mind, is the tuxedo:
Also the sequined oversized t-shirt dress attached to this post because I love a good slouch.
Oh! And the joggers!

Click here to see more of Tracee's collection.
And on more thing – remember this?!?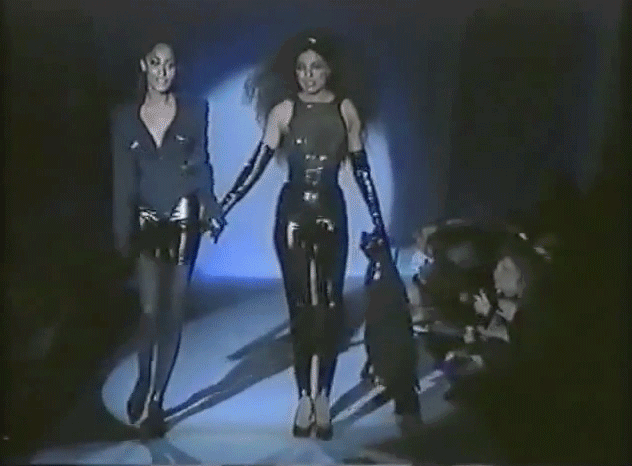 Have a great weekend!
Yours in gossip,
Lainey