If my inbox and Twitter mentions are any indication, Meghan Markle's wedding dress, by Clare Waight Keller for Givenchy, was not a total slam dunk. It wasn't for me either but, as I wrote on Saturday, while I didn't love the dress, I did love the look, the vibe they were going for, especially because it so suited the castle. It was Guinevere and medieval, like out of a painting. And the centerpiece of it all was not the dress but the veil and the Queen Mary diamond bandeau. They built everything else around it – including the dress. In that sense then, the dress had to be simple, an intention I totally get. It's just I'm not sure it was executed all that well?
You can see what they were going for in the sketches:
Sketches of The Duchess of Sussex's #RoyalWedding dress, designed by Clare Waight Keller, have been released.

The Duchess and Ms. Waight Keller worked closely together on the design, epitomising a timeless minimal elegance referencing the codes of the iconic House of Givenchy. pic.twitter.com/A9ZFKVZmUz

— Kensington Palace (@KensingtonRoyal) May 20, 2018
The veil is totally the main event. And the veil was f-cking spectacular – no one can argue this. The only job of the dress, then, was to be the foundation for the veil and the tiara. So it should have fit better, right? The material seemed too heavy and stiff, taking away from the ethereal lightness of the look. Think of how green the chapel was, evoking a forest in old England times, and a maiden meeting her true love who arrives on horseback. Set against that backdrop, the stiff satin of the dress seemed incongruous. I understand why it was chosen, because satin is luxurious, but at the same time, it carries so much…gravitas… that it maybe took away from the weightlessness of every other element. Also I wish she had worn her hair down. It's probably not the conventional choice given the boat neck of the dress but if we're leaning into the whole medieval thing, hair down would have been the way. Then again, her hair isn't quite long enough for that and royals get criticised for wearing hair extensions. God, the sh-t they can and can't do is exhausting.
As for the Stella McCartney dress she changed into for the reception – you remember, I was posting about Stella's name coming up a lot in the days leading up to the wedding and now we know why. The design is 100% a second dress, an evening dress. I don't know though that I like it any more than I do the main dress. Because it doesn't seem like it doesn't fit all that well either. There's a specialness that's missing from it. That said, it was a lot better than Princess Kate's basic AF reception dress, oh my God I forgot how much I hated it.
As you know, Harry and Meghan headed to the reception in his dad's vintage Jaguar with their wedding date on the licence plate:
The Duke and Duchess of Sussex depart Windsor Castle for a reception hosted by The Prince of Wales at Frogmore House, in a silver blue Jaguar E-Type Concept Zero. This vehicle was originally manufactured in 1968, and has since been converted to electric power #RoyalWedding pic.twitter.com/hRrxEUlFlJ

— Kensington Palace (@KensingtonRoyal) May 19, 2018
This is where we saw the ring, Princess Diana's ring.
This is when everyone started crying again. William and Harry inherited their mother's jewellery collection. Will proposed to Kate with the blue sapphire. Harry had Meghan's engagement ring made with two of Diana's diamonds. And now he's again gifted Meghan with a very personal piece of history. Not that you needed any further confirmation but, as corny as this sounds, and it is really, really corny, man he is crazy about her.
The way he could not stop looking at her during the service…
The way he BIT HIS F-CKING LIP when he told her she looked amazing…
That thumb rub…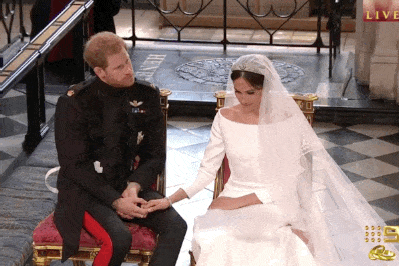 It's been a f-cking week. Exactly a week ago today, Harry and Megan, with just five days to go before their wedding, found out via TMZ for f-ck's sake, that her father wasn't coming to walk her down the aisle. For the next 72 hours, Kensington Palace was on lockdown trying to figure out how to sort out the mess. And somehow they pulled it off, somehow they made it so that all talk of Thomas and Samantha Markle has faded away and all that's left is the fairy tale. And in the aftermath, given the reaction, somehow the monarchy is in even better shape than it was in before. Even the British tabloids couldn't find an effective way to dump on much of what we saw on Saturday, especially not when they gauged the worldwide reaction to the wedding. For now. Eventually, though, they'll come up with something.
Next up: the official wedding portraits. Kensington Palace is expected to make an announcement about them shortly.