Some parts of this post are NSFW.
For three years now I've been trying to figure out what it is about the way Allison Williams dresses that … doesn't interest me at all. I think I've finally figured it out. She's like the girl in school whose dad is the principal or one of the teachers. Which is why she HAS to wear gowns like this. Gowns that were done, SO done, in 2004. Gowns that no other parent can criticise. Right???
Except…
Season 4 of Girls premiered at the same time. And this boring red thing here? It's SO inferior to what happened to Marnie on the show. Which is this: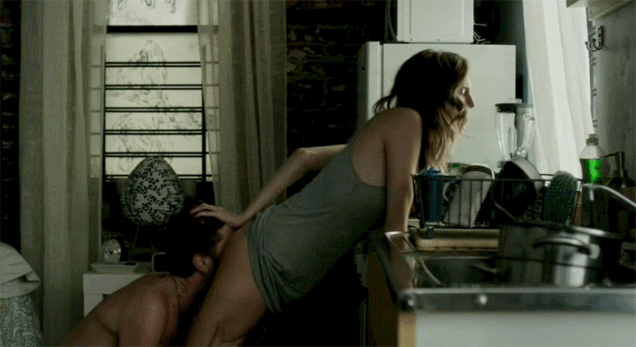 F-ck yeah.
F-ck. YEAH.
You see that girl getting eaten out over the kitchen sink? I want to know what she would wear to the Golden Globes.
Click here if you want to see more of that scene. I know you do. (Um, NSFW, obviously.)
PS. Duana is recapping Girls this year. But we'll pick it up next week because of the Globes.