As another week of self-distancing and self-quarantine goes on, it is time to ask the important questions, such as: Which Succession characters would thrive in self-quarantine? The Roy family is made up of a bunch of self-involved narcissistic assholes who get off on chaos and back-stabbing. An economic crisis brought on by pandemic is the kind of chaos-ladder the Roys love to climb, but not all Roys are made equal—for every Shiv, there's a Cousin Greg. Which Roys would do well right now? Who is making moves, who is getting ahead, who is floundering in a sea of uncertainty? Here are my power rankings for the Roy family quarantine, based on a non-corollary scale of businessy things.
Logan Roy
Waystar-Royco is a conglomerate that includes media companies, amusement parks, and cruise lines, and as such, its stock is getting CRUSHED in the pandemic crash. The patriarch of the Roy family is on the phone to the president every day, explaining why the lockdown should end early, because Waystar-Royco's stock price is more important than public health and safety or something similarly evil and self-interested. Logan is holed up at the summer house—even though it's off season in the Hamptons—and plotting how to leverage panic and a stock market crash to benefit him. He is definitely on the internet's short list of rich people to eat first.
Power Ranking: 3-martini business lunch
Shiv Roy
On paper, Shiv is Logan's smartest, most capable child, and she is spending her days on Zoom with various public relations experts, plotting how to turn "the situation" to her benefit. She is hash-tagging and retweeting charity campaigns, but notably hasn't donated any money herself. She is trapped in her penthouse with Tom, and the staff—whom Shiv insists work throughout the lockdown—are taking odds on who attempts murder first, with odds heavily favoring Shiv poisoning Tom's wine. Shiv will make some moves and for a moment, it will look like she is gaining favorable notice for her response to the crisis, but she will overplay her hand and get checked by Logan.
Power Ranking: White power suit
Kendall Roy
(Peter Kramer / Courtesy of HBO)
In actuality, sad boy Kendall is Logan's smartest, most capable child, as we learned when he burned his father on national television during a press conference in which he was supposed to take the fall for a series of Roy family f-ck ups. Since Kendall recently parachuted out of the Roy family while throwing grenades at his dad—metaphorically, of course—he is doing the rounds on the liberal news networks, opposing his father and ATN's "this isn't THAT big of a deal" rhetoric. Somewhere in Washington, DC, a democratic strategist is wondering if Kendall has what it takes to run for office (he does not). Kendall is the only member of the Roy family the public currently does not want to eat.
Power Ranking: Bob Iger buying Fox
Roman Roy
The hapless Roy, Roman is hoarding toilet paper and hand sanitizer, checking his temperature every hour, and obsessively googling the symptoms of coronavirus. He is absolutely useless to his father and the family business during this crisis, but he did manage to get sequestered with Gerri, so that's something.
Power Ranking: First in line at Target on TP delivery day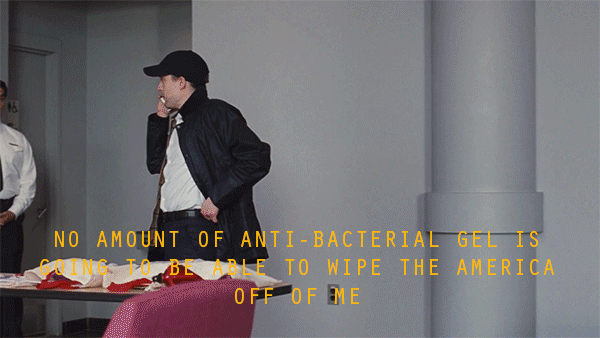 Connor Roy
Despite getting flogged in the primaries, Connor has not suspended his campaign and broadcasts via Instagram Live every day from his ranch, providing counter-point policy positions after each presidential briefing. Because Connor is an out of touch dilettante idiot, these daily videos are ENORMOUSLY popular and produce an unending series of memes. Connor doesn't understand internet culture and insists this is a sign his campaign is not yet dead, and he could benefit from a series of delayed primaries after the lockdown lifts. Willa, meanwhile, is devastated that Sand has closed during the Broadway blackout and will not reopen.
Power Ranking: Monkey in a business suit
Tom Wambsgans
Tom is worried Shiv might be trying to poison him, but he is so overcome with relief that he is no longer the head of parks that he can't feel anything except acute relief. ATN is thriving during the lockdown, since everyone is stuck at home and ratings are through the roof, and Tom makes sure to copy Logan on periodic emails about ratings surges and most-watched records he is overseeing. Tom does not know that Logan deletes his emails without reading them. As Maria suspected, Tom contracts coronavirus after attending a backroom meeting with a group of conservative senators, none of whom have observed social distancing despite reports of staffers testing positive for the virus. He tells no one and thus exposes Shiv and their domestic staff to the virus. One of the maids contracts the virus and passes it to her 85-year-old father, who passes away. Everyone assumes the maid contracted the virus on the subway. Tom and Shiv send flowers to the funeral.
Power Ranking: Leftover afternoon meeting deli sandwiches
Cousin Greg
Dear, sweet Cousin Greg is keeping his head down after the fiasco of Kendall's press conference. Greg hopes no one from the Roy family remembers he exists, at least until he figures out what to do next. While on lockdown, Greg is weighing the pros and cons of siding with Kendall. On the one hand, he knows the Roys are morally bankrupt and ignored serious abuses in their cruise division and Kendall was right to admit to it. On the other hand, it might be more lucrative to give Logan the inside track on Kendall. On the other other hand, he could just walk away and accept his inheritance from his father. What is a good tall boy to do?! Order California Pizza Kitchen on DoorDash, of course.
Power Ranking: Teleconferencing on Zoom