(Lainey: this post was written by our newest contributor. He was one of the students in the 4th year Arts & Humanities class I taught on Gossip at Western University last year. He is also a student of RuPaul's Drag Race. For a long time, I've wanted to include Drag Race content on this site but hadn't found the right voice, the right expert. Meet Prem. He's also on Instagram @psramani.)
RuPaul's Drag Race: All Stars 4 premieres this Friday, December 14. For the uninitiated, those of you who might be checking out RuPaul's Drag Race (RPDR) for the first time, there's so much to love: the crazy challenges, the daring lip syncs to decide who goes home, and even the scantily clad, muscular men of the "Pit Crew" that help the queens. (I just watch the show for the articles though.) However, the best part of RPDR is the drama. In All Stars, favourite queens return for another chance at the crown to become America's Next Drag Superstar. Let me introduce you to this season's queens:
As RuPaul's says, "Category is": Fav Queens
My personal favourites and the ones I believe have the best chance to win.
Monet X Change (Season 10)
I love Monet X Change. I had a chance to see her perform in Vienna, but the show was really expensive so instead, I just yelled her name through the streets in the hopes that she would hear me. Monet competed in the most recent season of RPDR this summer. She didn't really register on my radar until she ended up in the bottom two and was forced to lip sync for her life. Watching her break it down to Nicki Minaj's "Pound the Alarm" changed me as a person. Along with Rihanna's gag-worthy runway walk during the 2012 Victoria Secret Fashion show, it's how I get my daily dose of Vitamin G(ay). Monet also created the controversial (read: ugly) sponge dress in the first episode of the season. From that point on, a sponge appeared in every episode, and she even released a song about sponges on YouTube.
Monet, Iconic Lip Sync:
Manila Luzon (Season 3, All Stars 1)
What rhymes with vanilla? Manila! We stan this Filipino-American queen who competed on Season 3. Asian queens are rare on RuPaul's Drag Race and this season we have two! Manila was also on All Stars 1, making her one of two queens to compete twice on RPDR All Stars. First, I have a huge crush on Manila outside of drag so let's get that out of the way. Second, Manila is a hilarious queen whose celebrity impression of Filipino First Lady Imelda Marcos is legendary. She has the best facial expressions, the best reactions, and the best accents. A good way to gauge her sense of humour is when Manila says that "the thing I have, that you haven't seen on your show is that I'm Asian - and I am taller than 5'2!"
Naomi Smalls (Season 8)
Naomi Smalls doesn't just have legs for days, she has legs for decades. Drag isn't about looking like a runway model, but if it was, Naomi would win hands down. She is incredibly creative and fashion forward. Her looks are couture, modern, and she knows how to sell them as she walks down the catwalk. She actually made it to the top 3 of her season so she's definitely a serious threat in this competition. My favourite look of Naomi's is this avant-garde style moment. If you're interested in fashion, she's the contestant to watch.
Category is: Drama Queens
Along with their wigs, gowns, and makeup, these queens are bringing controversy and intrigue with them to the main stage of Drag Race.
Valentina (Season 9)
Valentina has been praised by the judges for her beauty and body. She has both in spades but some of the other contestants felt that she coasted on her looks rather than her talent. Valentina looked like a frontrunner until her shocking elimination after a dramatic lip sync. One of the biggest mistakes a queen can make is not knowing the words to a song. Valentina took it one step further by wearing a mask over her mouth to cover her mistake. She even declined to take it off after RuPaul stopped the lip sync midway and asked her to remove the mask, resulting in her elimination.
At the reunion, Valentina was also embroiled in controversy when her incredibly dedicated but ferocious fanbase sent death threats and insults online to many of the other queens. Some even criticized other queens for not offering themselves up in sacrifice in order to save her from elimination. The other queens were further enraged because Valentina remained quiet during these social media clashes.
Gia Gunn (Season 6)
Although Gia is a "fishy" queen, which in the drag world means that she looks especially feminine, she was eliminated rather early in her season. In 2017, Gia came out as trans and is currently undergoing hormone therapy. The drama here is that, recently, RuPaul came under fire for his purported insensitive remarks about trans competitors on his show, remarks that were especially hurtful because of his leadership role in the LGBTQ community. He said that he wouldn't want performers who had undergone transition surgeries to compete, comparing them to Olympic athletes who take performance enhancing drugs. This is total bullsh-t and people were quick to criticize him. Drag has always been and remains an inclusive space with strong historical roots in the trans community. RuPaul's ignorance of this fact and his annoyed reaction to valid criticisms mean that Gia's presence on the show is highly anticipated. This move is definitely a step forward in the right direction, but one that will need to be handled properly. I'm curious to see how RuPaul will fare. Here's a good article for more background.
Category is: Meme Queens
Queens whose epic moments during their tenure have been repeated and interpreted endlessly by RPDR fans and whose quotes are indoctrinated.
Jasmine Masters (Season 7)
Jasmine Masters has this wonderfully deep, raspy voice which she uses to tell it like it is. Everyone should also be jealous of her because she manages to have rocking abs without seemingly doing any of the recommended diet and exercise. I do both and still have flabs. Jasmine is supremely popular because of her YouTube videos where she sits in front of a camera and tells you to get your sh-t together. She created the satirical "Get a Job YouTube challenge" and has several videos telling you to "wash yo' ass" and "wear deodorant" because she's sick of dealing with other people's odours. She's going to be a definite source of comedy this season.
Farrah Moan (Season 9)
Farrah is a beautiful queen who seems like she's ditsy and whiney about everything. In reality, she's incredibly sweet and genuine, though she has been known to call people out on their bullsh-t if she needs to. She's actually pretty whiney too. If you didn't get the pun, Farah's name sounds like "pheromone" because she's all about the classic, sexy Marilyn Monroe look. In the most recent season of Drag Race, guest judge Christina Aguilera dressed up as her. Farrah also gave us this amazing reaction gif from an emotional, but not that emotional, moment in Season 9.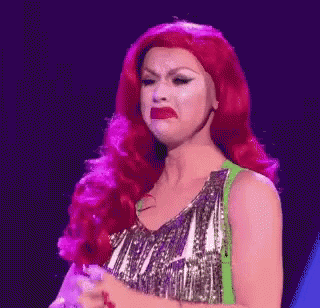 Valentina (again)
I know we've already talked about her but Valentina's shocking elimination produced this amazing meme that you have to see. When RuPaul stops the lip sync and asks her to take off her mask, she replies "I'd like to keep it on please." Eventually she's forced to take it off, but this simple interaction gave birth to some hilarious interpretations and even a LUSH facemask. Here are some of my favourites:


Monique Heart (Season 10)
Monique also competed in the most recent season of Drag Race and quickly became a fan favourite because of her funny narrations of the challenges and her irresistible personality. She is f-cking amazing. Many of the contestants on the show come with expensive, custom made gowns that wow the judges. Impressively, Monique made all her outfits, from scratch, right on the show in Season 10. She's a lovable queen who works hard for what she wants. Her most memorable moment is thinking that a giraffe print was a cow print and giving us the quote, "I saw it and I was like, ah! Brown Cow, stunning!"
Trinity "The Tuck" Taylor (Season 9)
Trinity is a pageant queen turned comedy queen. While still being a master of high fashion and wearing creative and unique outfits, she's also laugh-out-loud funny with a knack for creating highly memorable characters. Trinity does a "tight tuck" which is drag for popping your testicles back where they came from and pulling back the dick (often with the help of duct tape) to create a "female illusion." Trinity's "shtick" is that her iconic hour glass shape and voluminous butt comes from injectables like Botox in her ass, a running gag that she likes to reference every so often. When guest judge and supermodel Joan Smalls complimented her butt saying, "I need to take myself to the gym," Trinity replied with "No, just the doctor."
Latrice "Get Those Nuts Away from my Face" Royale (Season 4, All Stars 1)
Latrice is the queen of quotes. She is "large and in charge, chunky yet funky" and she is the second queen to have competed on two All Stars along with Manila Luzon. In fact, Manila and Latrice were on the same team so perhaps an alliance will be formed to knock out some of the competition. Latrice is funny and pithy and she can rock an outfit like nobody's business. Sometimes she is preaching words like "Jesus is a biscuit, let him sop you up," which breaks out into a full choir chorus. Other times she's offering valuable advice like "5 G's please: Good God Get a Grip Girl," or "everybody makes mistakes, but bitch you better look sickening when you get up and make them eat it!" The best times are when Latrice lets loose this indescribable laugh that you just have to hear for yourself.
This season features big personalities and a diverse and inclusive cast of queens. If you are looking to binge and catch up, Netflix has seasons 2 to 9 of RPDR. Check out the Carol of the Queens promo featuring all 10 Queens in the upcoming premiere.